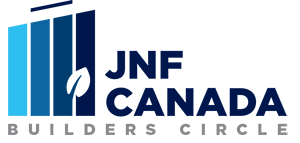 BUILDING ISRAEL TOGETHER
WHAT DOES IT MEAN TO "MAKE YOUR MARK" IN ISRAEL?
Your name, your family name and your parents' names will be honoured on the project you choose for generations. Imagine the excitement of visiting your project on trips to Israel. Imagine knowing that you made a difference in your own way. Imagine proudly showing your grandchildren what you did years before to support the land of Israel.

Recognition of your generosity will be at your project site with your name memorialized forever through a plaque, monument, or signage. As well, you will be recognized in Canada throughout JNF sites and magazines.

Steps To Becoming a Builder:
Define the meaning of your reason to give.

Identify how you would like to make a meaningful difference in Israel.
(For example, in memory of a loved one or celebrating a significant milestone.)

Decide your giving level.

The minimum donation level required to become a Builder is $7,500.
Multi-year payment plans are available.

Choose your project from our large list of giving opportunities.

Start with the list on this site - show your family and have fun.
We will help you customize your project until you and your family have exactly what you want.
Don't see anything that moves you on the site? JNF staff will help you find the project that's right for you.

Contact the JNF office to select the project of your choice, and we will help you design an affordable payment plan.

We will do everything we can to make your experience of being a Builder simple and enjoyable for you and your family.
Get in touch. Contact Us

Receive project updates.

Whether its an update on the status of your project, or words of thanks from Israelis for program expansions, JNF staff will make sure that you are kept up to date on the progress and impact of your donation dollars.
You will receive a progress report at various stages of project development and be updated on the impact of your donation dollars.
Start the process of becoming a Builder with JNF today!

BROWSE PROJECTS